ABOUT THE WLPA
Workflow learning embeds learning and support in the workflow to be accessed WHILE doing the work. With that said, The Workflow Learning & Performance Alliance has one mission: to advance workflow learning and performance in organizations around the world. How? By creating a facilitated space where members engage in a range of workflow learning and performance focused activities. As more members engage in the overall conversation, the field will grow and improve. The more voices that contribute, the better!
Be part of this member-driven, global community of practice where professionals implementing workflow learning and performance improvement solutions ideate through shared information, experiences, challenges, and successes. This Alliance advances evidence-based practices and influences technology evolution through conversation, collaboration, education, information sharing, and research. All content and contributions come from the community, for the community.
Exclusive content created for WLPA members by workflow learning experts and practitioners

Monthly polls to take the community's pulse on key topics

Active forum where members regularly post questions and ideas to their peers

Live semi-annual community events

A community of 600+ like-minded professionals who connect and exchange ideas
---
SAMPLE COMMUNITY CONTENT
Alliance Kick-Off Event Recording
We were thrilled to celebrate the launch of The Workflow Learning & Performance Alliance (WLPA) with featured guest Charles Jennings! Watch this recoding to hear from Charles on the mindset shift needed for workflow learning, how to ensure a culture of learning and continuous improvement, research about why incorporating learning into work is so powerful, and an example or two of how organizations are leveraging workflow learning.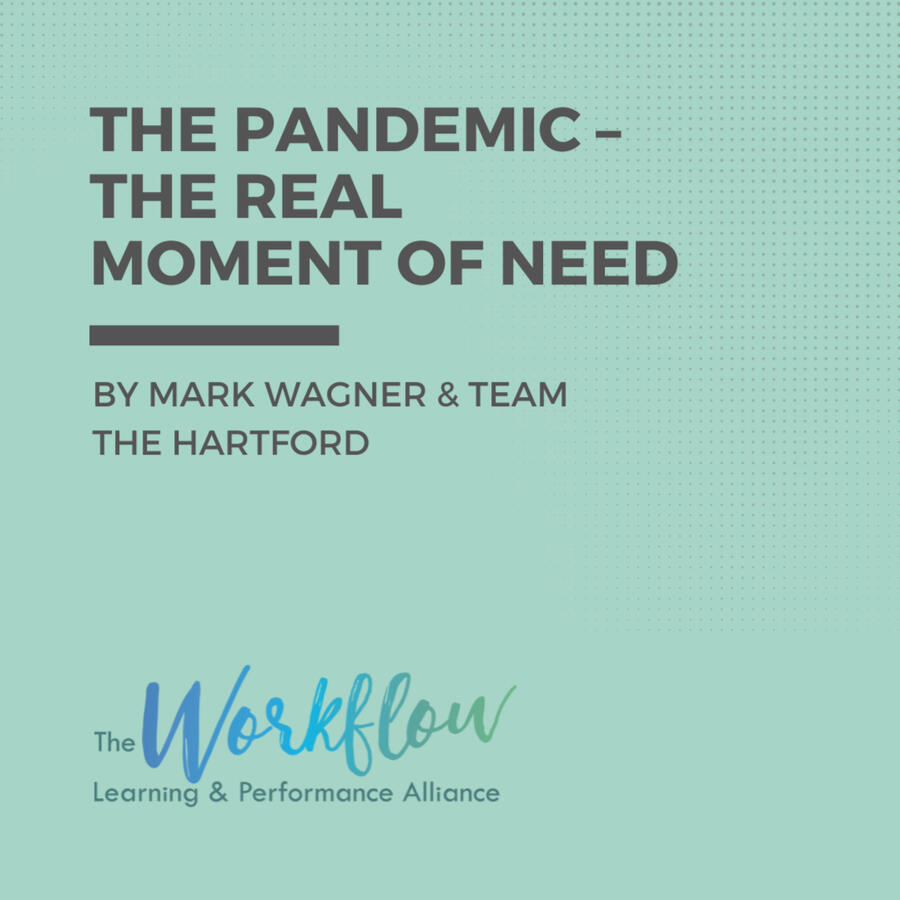 The Pandemic – The Real Moment of Need
By Mark Wagner & The Hartford TeamOn March 5, 2020, I was standing in the lobby of my office anxiously awaiting our CEO to exit a black Suburban. Twenty minutes had passed, and I was questioning if he was expecting me to open the door. Knowing Chris Swift, I thought that was highly unlikely. When the door opened and Chris emerged, he had a very somber look on his face. He said that Covid was starting to shut down the east coast and he feared that he was making his last visit for a while. The next week, everything would change.You all know the story of the world beginning to shut down and shelter in place. Our insurance industry was part of the front line as disability claims started pummeling businesses due to Covid infections and isolation orders. In the past, leveraging supplemental resource groups was a common practice for insurers to manage crises like property catastrophes, but they were never really used for disability management—and certainly not at the scale we were facing. When our learning team and performance support were called upon to increase the ranks of our disability analysts from other departments in the company, hundreds of volunteers were put into virtual (online) learning experiences to help with the workflow. In any organizational experience, our learning strategy leans heavily on performance support. This time, we would take chunks of workflows and allow teams to perform specific steps. Our Knowledge Management Tool (KMT) provides performance support in this format. Our designers added a Covid "learn more" area to beef up what was known about this novel virus. Within a week of navigating the performance support and practicing in the claim platform, our groups were able to move into production and increase capacity for the spike. That allowed us time to create automation around some of the decisions to approve absences and lessen the strain on our organization.Because our entire learning strategy utilizes a performance-based approach, the learners were familiar with training being embedded in the work. After about six months, the supplemental workers returned to their normal roles. Unfortunately, the cycle repeated in January 2021. This time, we knew what we were up against, and the strategy was already in place. The KMT was updated, and the resources were ready to help those battling the virus.Throughout this crisis, we weren't panicked. Why? Because we knew we had a sound performance support system. We pitched in by offering up content design, training, leadership, and evaluation/measurement resources. We relied on subject matter experts to fuel the content for Covid information, though it was sometimes scarce or evolving daily. So, what did we learn about ourselves as an organization through this work? 1) Learning in the moment is a necessity when catastrophic events occur. 2) It's really about the customer and meeting their moment of need. 3) Expertise, empathy, and ease need to prevail in the organization. 4) Well architected content can make all the difference.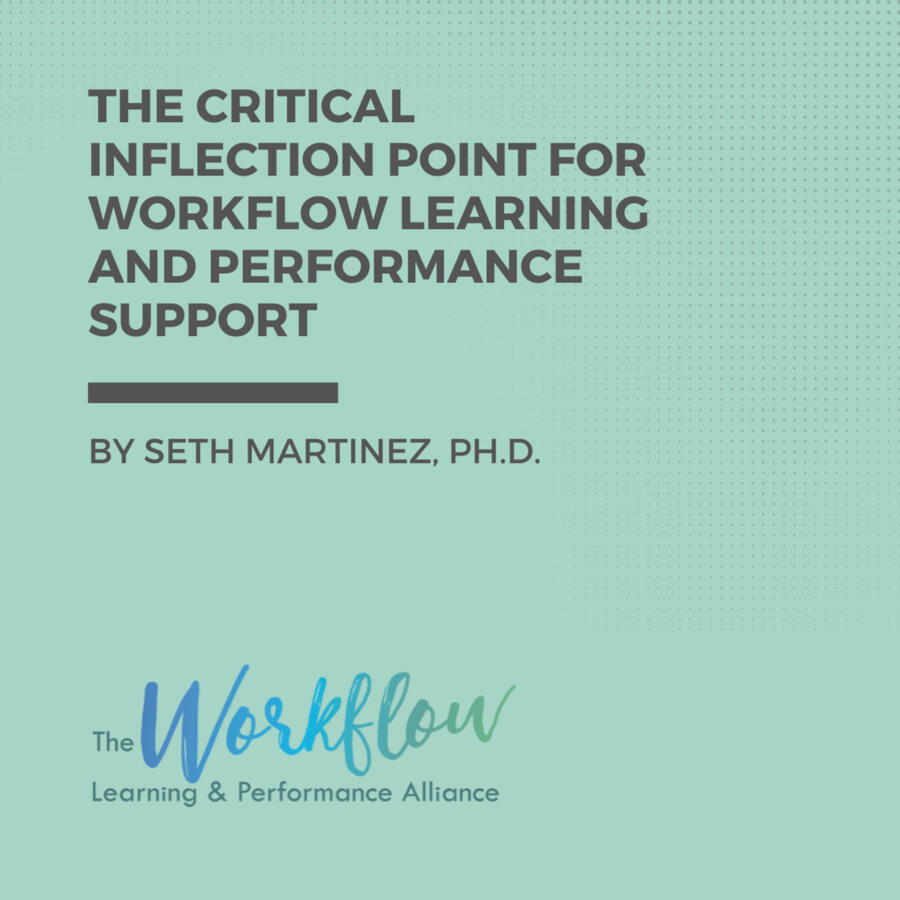 The Critical Inflection Point for Workflow Learning and Performance Support
By: Seth Martinez, PH.D.Research conducted earlier this year by members of *Boise State University's Learning Strategy Lab discovered a persistent theme: the time for organizations to emphasize workflow learning and performance support (WL/PS) is now. Over the summer of 2022, the research team interviewed over 20 learning leaders and decision-makers across industries (e.g., healthcare, technology, military, government, and L&D services). They supplemented the interviews with reviews of the annual industry reports of Red Thread Research, LinkedIn Learning, McKinsey & Company, Bain & Company, and Industry Magazine. Upon analyzing all data, the researchers observed three trends: (1) the stark reality of the new (i.e. remote) modern workplace as a result of the COVID pandemic; (2) increasingly nuanced and evolving tasks required of employees; and (3) the organization's heightened responsibility to address those dual needs and to do so at scale. The research team further concluded that the optimal manner to address this threefold challenge converges around strong workflow learning and performance support.Workflow Learning & Performance Support Today
There currently exists a diversity in conceptualizations of the terms workflow learning and performance support. That is, depending on the individual we interviewed or industry report we reviewed, it was highly probable that we might receive very different answers to the question of how the WL/PS terms were understood. Some considered WL/PS to be no more than checklists, procedures, examples, and flowcharts. Others communicated a more nuanced understanding, sharing that WL/PS was truly any learning resource that assisted the performer in the duty of their job, regardless of it being analog or electronic (e.g., a company wiki or discussion forum). The truth is that WL/PS includes all of these.Additionally, some learning and development professionals consider WL/PS to be highly relevant and germane to their job, while others report a sentiment of, "WL/PS is for the employees to manage themselves; our job is to focus on the formal training experiences." Ultimately, the disconnect is clear – and telling.Workflow Learning & Performance Support Going Forward
For organizations to successfully adapt to the changing workplace environment while simultaneously responding to their employees' ever-changing needs, the Learning Strategy Lab team concludes that now is the time to emphasize WL/PS. Why? Because not every employee's performance needs require formal training. This could be because more people are working remotely and it would be a logistical nightmare to try solving their needs using a formal training approach. Further, if two employees on the same team are working on similar tasks, but one is significantly more astute than the other, would it be efficient or effective to require the more proficient employee to sit through the same training as the lesser? Of course not. The culmination of these tensions points toward a single solution is needed now more than ever: a strong workflow learning strategy and performance support system.How? First, in an ideal scenario the learning involved shifts from how to perform a workplace task to how to use performance support to complete the same workplace task. Second, the data are clear that leadership support and an organizational culture that is committed to learning are critical to the success of WL/PS (Ellinger, 2005; Eraut, 2004). Additionally, a strong WL/PS solution requires a knowledge management strategy to keep any information in the performance support tool current (Maughan, 2005).If organizations want to succeed in supporting and amplifying the performance of their employees in 2023 and beyond, it is imperative that they develop a sound strategy around learning within the flow of work and an accompanying performance support system to match. The data are clear. The industry has spoken. The time is now.*The full manuscript related to the research described in this white paper is currently under development for publication in 2023.
---